2021 Jeep Gladiator Reviews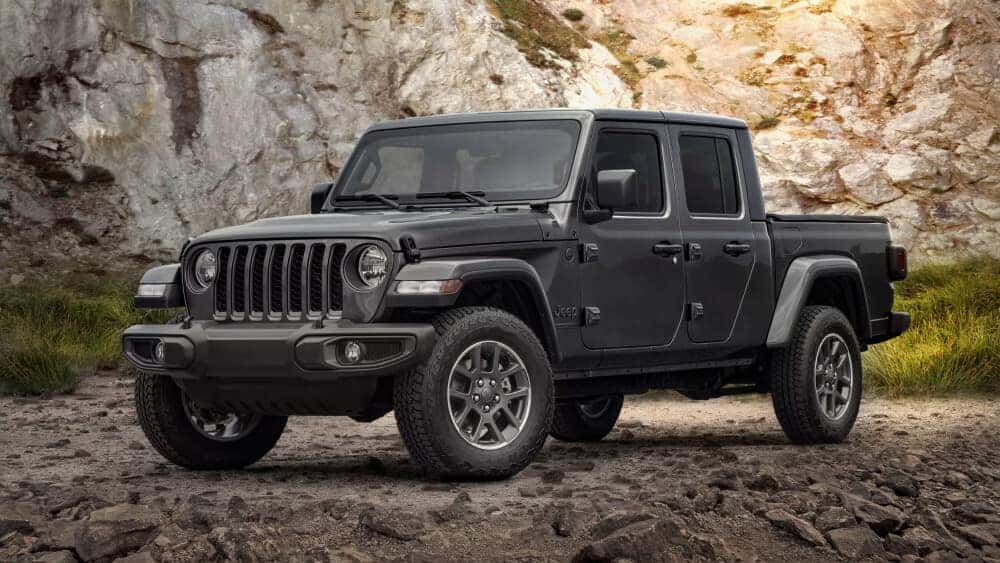 Curious about what the experts have to say about the new Jeep Gladiator for sale at Tonkin Hillsboro Chrysler Jeep Dodge RAM? The 2021 Jeep Gladiator reviews are in, and it's no surprise that they are glowing. Named the 2020 North American Truck of the Year, this Jeep SUV has been a hit with drivers from Forest Grove to Beaverton and beyond. Read the Jeep Gladiator reviews below to find out what the auto experts love about this vehicle!
---
Car and Driver
Car and Driver gives the Jeep Gladiator a solid 9/10 rating for the 2021 model year. After calling the Gladiator truck a more versatile version of the Jeep Wrangler, the reviewer goes on to praise the Gladiator's improved towing capabilities (7,760 pounds) and the addition of a diesel engine for the new model year. Read more about the 2020 Gladiator engines to learn more.
Other highlights include:
"Its removable body panels and rugged persona make it one of the best pickups around."
"When properly equipped, the Gladiator can tow an impressive 7650 pounds. Even the weakest version can pull a 4000-pound trailer."
"Inside, the Gladiator has an upright dashboard that imitates the Wrangler's and supports user-friendly controls."
U.S. News & World Reports
U.S. News & World Reports begins by calling the new Jeep Gladiator "a fine pickup truck," as well as mentions how the Gladiator "doubles down on everything buyers love about the venerable Jeep Wrangler." Many reviewers agree that Aloha drivers who know and love the Wrangler will also be a fan of the Gladiator.
Further accolades include:
"[The Gladiator offers] terrific off-road ability, bold styling, and open-air driving."
"You should consider the 2021 Jeep Gladiator if you value off-road ability ahead of anything else."
"The Gladiator's payload and towing capacities are among the best in the class as well."
It's also noted that the main difference between the 2020 Jeep Gladiator vs. the 2021 Jeep Gladiator is the aforementioned diesel engine that produces 260 hp and 442 lb-ft of torque.
Learn More About the New Jeep Gladiator in Hillsboro!
Experts are still getting their hands on new 2021 Jeep Gladiator models to review, and we're eager to hear what they have to say! However, it's clear so far that top names in auto like Car and Driver are big fans of the new iteration of the pickup. If you'd like to explore our current Jeep Gladiator inventory or want to learn more about the Jeep Gladiator Price, feel free to contact us to schedule a test drive! We look forward to helping you get behind the wheel.
More from Tonkin Hillsboro Chrysler Jeep Dodge RAM
If you're looking for a versatile and dependable Jeep SUV for sale, the 2022 Jeep Lineup is where you need to bring your attention! Jeeps are designed with functionality in mind, which gives drivers the opportunity to do many things. From daily drives around town to off-the-grid adventures with family and friends, Jeeps can truly…

Shopping for a new vehicle that is affordable but also comes with all of the unique features that you want is time-consuming. However, finding a car that suits your lifestyle can be easy when you go to a reliable dealership! At Tonkin Hillsboro Chrysler Jeep Dodge RAM, everything we do revolves around you, our customer….

If you are on the lookout for a truck to add to your fleet, the RAM 3500 is a powerful and dynamic option. It's built to handle an incredible amount of weight for towing around Aloha. The newly-refreshed design has a bold front grille to captivate the attention of everyone and the interior technology…